Vision : To be among the best providers of high quality services in drilling, explorations, geophysical survey, and all kind of borehole services in Central and Southern Africa with a global perspective.
Welcome to Simba Drilling and Exploration Limited
Simba Drilling and Exploration Limited is a Zambian company registered by shares. The company is based in Lusaka and focuses on consultancy, drilling, exploration and general trading. The Company has completed major works in India & Tanzania.
OUR MOTTO
Our principal objective is to achieve maximum success in the field of water well drilling, explorations, dewatering, geophysical survey in favorable and unfavorable areas. We are committed to deliver high level of customer satisfaction by providing quality output and real value for money. Simba Drilling & Exploration Ltd will work towards exceeding customers expectations through commitment to excellence, constantly upgrading the fleet and machinery to suit the ever changing market demands, trend and setting new benchmark's in the drilling industries. The company will also be involved in the area of general water development, geophysical survey, explorations consultancy for the benefit of the Republic of Zambia.
Values

We believe that our customers and staff are the most valuable assets of our company driven by the following values.

Dedication to customer needs
Pursuit of excellence in everything we do
Passion for technology
Innovation
Respect and openness
Ready to take on great challenges
Team Work

Statutory Registration

Registered as a Limited Company, limited by shares
Registered with NAPSA
Registered with ZRA with Valid VAT and TPIN certificates
Registered with the Workers' compensation fund control board
Municipal Annual Business Permit
Registered with NCC
Fire Certificate

Professional Membership Of The Company

(Affiliations)

Simba Drilling is classified as Citizen Owned Company under the citizen Economic empowerment commissions. We will be very courageous if our own institutions in our country look after local companies.

Member of the National Council for Construction Grade (3) Main Category (C)
Citizen Economic Empowerment Commission (CEEC] - Citizens Owned Company
Zambia Public Procurement Authority (ZPPA]
CONSULTANCY AND BUSINESS DEVELOPMENT UNIT
The company's consultancy and business development unit will focus on donor and community facilitation at all levels of water development including
Water source identification,
Appropriate water development means,
Water conveyance
Care and maintenance etc.
Explorations

Dewatering
Geophysical Survey
Diamond and core drillings
Radiometric and Magnetic data analysis
Interpretation of Geological data
DRILLING UNIT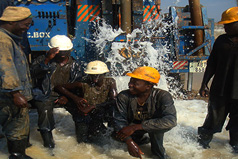 The company is operating with a Pneumatic Rig to the latest High Pressure, Super fast, Hydraulic Rig with diameters including 4", 4.5", 6", 6.5", 8", 10", 12"and 16". There will be other accessory equipment (e.g. light trucks, welding machines etc.] to support the drilling.
The drilling unit is working in conjunction with the consultancy unit in many cases (especially in community projects, there is need to facilitate the communities with skills to manage the borehole as well as the borehole pump and other equipment. Training is being provided before the drilling and after the borehole has been finished and pumps installed.
FIRST IN ZAMBIA
Simba Drilling & Exploration Limited is the first time in Zambia to introduce the latest concept in tube well drilling technology by acquiring Dual DTH &Rotary Rig. A Rig that completes one gravel filter packed tube well deep 4" to 12" in comparison to 3-4 months for 1000 feet deep by percussion RIG.
OUR QUALITY SERVICE & EXPERIENCED STAFF
The Company is offering borehole drilling of various depths ranging from 200feet to 1500 feet (165 mm]. Highly skilled staffs of company are also updated by the constant improvement in the field of drilling. The Company is offering extended service towards customers like water surveyors, Installation of Pumps / Motors and Water Analysis.
EXPERTISE
Right from the beginning, Simba Drilling & Construction Limited operates with High-pressure, Super fast, Hydraulic Rig both on surface and in well by 4 % ", 6", 6 % ", 8", 10"& 12" bore wells. 4 % " Tube wells are being drilled in open wells. 6 % " drilling is the common drilling size in Zambia. The 8", 10", 12" are dug in Northern Zambia. Our uniqueness of timely delivery and on site quality service will allow us to leverages local competencies and to offer global competitiveness to our customers.
OUR GROWTH
Simba Drilling & Exploration Limited is striving to emerge as Zambia's No. 1 Water Borehole Drilling Company and Contractor of Water Borehole Drilling Rigs. The significant growth of company in the field of drilling is proven to be one of the major customer supports. This success is achieved by the quality services provided by us to our esteemed customers.
FOLLOW UP SERVICE


For all our boreholes support services is provided in terms of technical support as well as supply of spares for the systems that we install.
CONSTRUCTION UNIT
The construction unit support drilling activities include supply and filling of various pumps, reservoirs, plumbing and small irrigation systems as well as general construction.
Hydraulic Operated Top head Driver Multipurpose Drill module Ashok Leyland Truck KLR Universal Rig module ELGI Compressor (1100 CFM/300 Psi) Drill capacity 200 meters and dia( 150 mm (6") to 300 mm (12")

Picture of one of Simba Drilling's Modern, Sophisticated & High Pressure Drilling (Rig) Equipment

Simba Drilling at site drilling a borehole

Diamond Core Drilling Rig
Diamond Core Drilling Rig
Hydraulic Top Drive Diamond Core Drill Rig "DICD 75" including 213 HP Cummins engine, Variable Displacement pumps and motors, under carriage(Crawler) direct feed mechanism, Two speed rotary head, rod clamp, water pump but excluding Hydraulic oil. Technical specification and item list as given in annexure-II
Some of Simba Drilling & Exploration Limited's Construction Equipment
Products and Service Range at Simba Drilling & Exploration Limited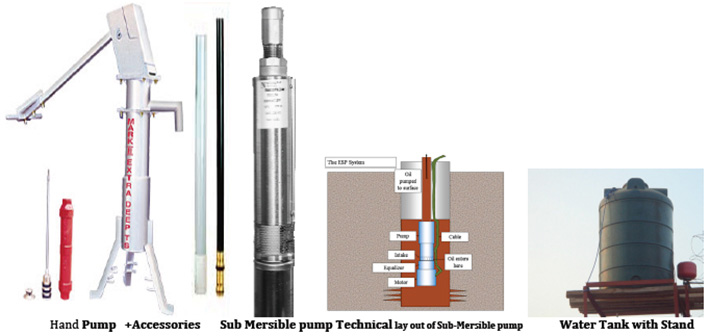 At Simba Drilling & Exploration Limited we supply and install the above High Quality& Durable Equipment at very affordable prices. The work is being carried out by well-qualified and experienced hydro-Geological Engineers/Technicians.
Supply of Hydraulic operated, top drive diamond core, core drill "DICD 75 including 213 HP Cummins engine Variable displacement pumps and motors, under carriage (crawler], direct feed mechanism, two speed rotary head, rod clamp, water pump but excluding Hydraulic oil.
BUSINESS OBJECTIVES AND GOALS

Simba Drilling & Exploration Limited is strive to be recognized as reputed Drilling Contractor for offering reliable and result oriented Explorations, Geophysical Survey, Diamond and Core drillings Boreholes Service, Water Boreholes Service, Borehole Consultant Service, Water borehole Drilling Service, and Drilling in Mining Services. The Company has a cadre of well-known Borehole Consultants and highly trained experts who are successfully execute highly advanced technique to provide Bore well Drilling service to customers at a very reasonable price. The Company is able to perform approximately 150 to 200 water boreholes every month.
The company key focal areas are the following organizations
Donor agencies (both Bilateral and Multilaterals] that are operating programmes in water and sanitation at both urban and rural setting and exploration services.
Government departments dealing with water issues either in conjunction with donor or using government funds.
International NGOs and Government dealing with water issues and Mineral exploration.
Working with local community organizations (CBOs) assisting them to secure major funding for rural water supply projects that ultimately result in business for the company
Working with Faith Based Organizations (FBOs) that are carrying out community projects in water and sanitation.
Working with Local Authorities on rural water supply planning (e.g. water source (s) identification, conveyance as well as storage methods
SMEs dealing with small irrigation systems
STAFFING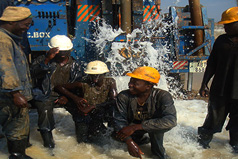 The staffing is wide from drilling staff to experts in communities and hydrology to reflect the range of services that we offer. The drilling staff includes well seasoned drillers from both India and Zambia who have vast experience in all types of drilling situations found in Zambia and the explorations ,geophysical, etc staff also includes well season and experienced Geologists who have most explorations and mapping in Tanzania and Zambia. This includes, among others, drilling in loose material like sand and gravel; drilling in limestone and other types of sedimentary rocks as well as metamorphic rocks.
FINANCIAL CAPACITY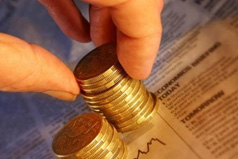 Our company enjoys credit facility from various suppliers including foreign brand companies some of whom are listed below and are able to submit confirmation of required
White Nile Enterprise in UAE up to AED 1,000,000.00
True Value Hardware Ltd ZMK 600,000,000.00
Kitchenware Industries Ltd ZMK 500,000,000.00
MMI Steel in Zambia ZMK 550,000,000.00
Classecon Africa in Zambia ZMK 400,000,000.00
We hope that our above presentation is successful in our introduction process and hope to hear from you favorably soon
VEHICLES, PLANT, EQUIPMENT & TOOLS OWNED OR LEASED BY THE FIRM.
Type
Make
Capacity
(m3/ton/Hp)
Age (Years).
Condition
(Good/Fair/Poor)
Owned /
Leased
1.
Big Horn
Isuzu
2011
Good
Owned
2.
Hilux Pickup
Toyota
1.5 ton
2008
Good
Owned
3.
1617 Mercedes- Benz Truck
M - Benz
10 ton
2006
Good
Owned
4.
Isuzu KB300 Pickup
Isuzu
2007
Good
Owned
5.
FODEN TRUCK
FODEN
6.2 ton
2009
Good
Owned
6.
Volvo Truck
Volvo
10.5 ton
2010
Good
Owned
7.
Concrete mixer
ESCO
600 ltrs
2009
Good
Owned
8.
Generator 5KWA (04)
Honda
5KVA
2011
Good
Owned
9.
Welding machines (2)
3Phase/Single phase
2011
Good
Owned
10.
Poker Vibrator (2)
40 - 60
2009
Good
Owned
11.
Drill Machine
Bosch
2010
Good
Owned
12.
Plate Compactor
ESCO
01 - 02 ton
2009
Good
Owned
13.
Scaffolds
Owned
14.
Miscellaneous Tools
2011
Good
Owned
15
AMW Truck mounted Water Drilling Rig
AMW
2013
Good
Owned
SOME KEY PERSONNEL
No.
Name
Proposed position
Qualifications
Years of Experience
1
Gudipati Saritha Reddy
Techinical Director
B com; MBA
9
2
Jinna Rohit Reddy
Director
B. Tech
8
3
Sudheer Reddy
General Manager
B. Tech
6
4
Venkatesh Kumar
Director
B. Tech
4
5
Nyambe Nalumino
Consultant Operations Manager
BSc,MS.
Environmental
Science/Minor
Irrigation&
Drainage
Engineering
22
6
Paul Ngwira
A.A Ngwira & Company)
Accountant
ACCA 1
19
7
8
Chibale Phiri
Senior Engineer
BSc. Civil and Environmental Eng.
16
9
Shungu Henry Kanyiso
Engineer
Bsc. Civil Engineering
14
10
Mr. Srinaih Jallela
Driller
Mechanical Technician
18
11
Sackson Tembo
Computer Technician
IT Trained
8
12
Njamu Fred Mwape
Engineer
BSc Civil Engineering
22
Africa Projects
Enquiry Form
Your email address will not be published. Required fields are marked *
Contact Info
Office
Simba Zambia Drilling & Exploration Limited
Plot No: 171 b, Bwinjimfumi Road, Malambo Close, Rhodes Park, Lusaka, Zambia.
Phone
+260 977 556789, +260 955 556789